MyMedic Innovation Sdn Bhd
MyMedic is one of the local manufacturing and distribution for medical disposable devices in the region. We bring in the latest technology and manufacture the medical disposable devices that will enhance the quality of patient care.
Our facilities with class 10K clean rooms which is routinely tested, calibrated and maintained for compliance with International regulatory standards, we are able and committed to provide world class standard of medical disposable devices. Stringent and continuous QCs at all stages of the manufacturing process are practice to enable us to keep improving the quality of our products.
MyMedic goal is to continuously improve each single function of our company in order to create customer satisfaction. The production equipments used is of most modern design. We manufacture our products with the help of the latest production technology harnessed through dedicated production team in a harmonious and certified clean-room environment within process quality control to the highest consistency with traceability and documentation. You count on us for precision manufacturing, R&D support, precise and timely deliveries.
We are inspired to develop and distribute innovative medical technology that will help ease the burden and difficulties faced by health and medical professionals in their daily routine in patients care and at the same time to make the patients have a more pleasant experience in the course of treatment, all in the name of passion for life.
Company Information
| | | |
| --- | --- | --- |
| Company Name | : | MyMedic Innovation Sdn. Bhd.(757536-K) |
| MOF Registration No. | : | 357-02080464 |
| Corporate Office | : | 8, Lorong Sukepi 1, Off Jalan Sukepi, Kaw Perindustrian Jenjarom, 42600 Jenjarom, Selangor Darul Ehsan, Malaysia. |
| Business Experience | : | More than 10 years of experience in manufacturing medical disposable products and distributing medical disposable products in local and international markets. |
MyMedic Vision
Enhance product
Continue create innovative products and manufacture high quality goods.
Benefit People
Care our employees and provide comfortable working environment for them.
Worldwide responsibility
Take social responsibilities and contribute to the world via best product and services
Meet International Standard
We strive hard to make sure our product quality is always on par with international standards. Currently, our facilities and production process meet the requirements of ISO 13485:2016 that is accredited by SGS United Kingdom Ltd.
Prevent disease
Taking care of people is our main vision, we insist on this level professionalism in order to satisfy our customer with the safest, most comfortable products.
Investing Our R&D Facilities
Establishing the complete product developing system and creating innovative products.
MyMedic Mission
As a target, MyMedic will continues to conduct high level research and development in the area of protective filtration materials and products to exceed international standards for consumer and professional protection, to other consumer and professional with safe high quality and comfortable protective products, and to help people achieving a happy, safe and healthy life.
MyMedic Philosophy
"We do everything we do with passion - and we do it for life."
Our philosophy guides us more than merely guaranteeing technical excellence. It means assuming responsibility for the lives of those who use our products and depend on them. Passion for life is both our guiding principle and the central challenge that we draw on for inspiration and motivation.
Our Certificate
SGS ISO 13485:2003
GDPMP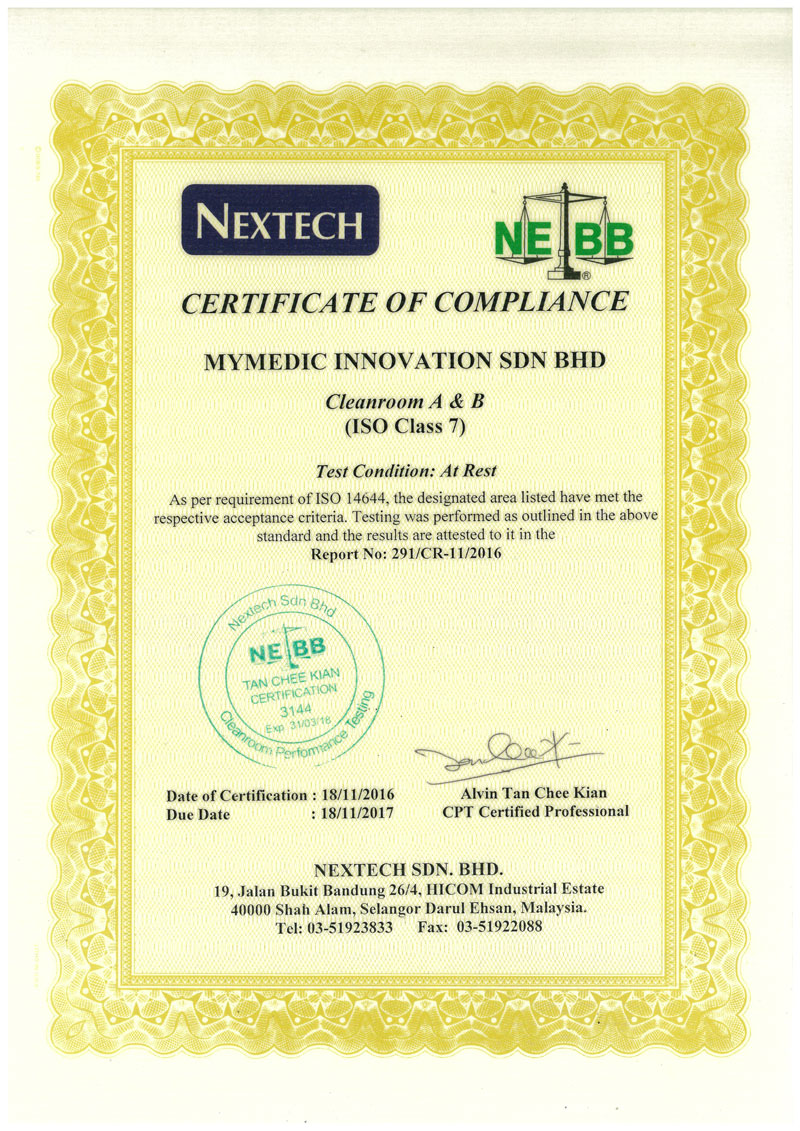 Certificate of Compliance for Cleanroom
SME Corp 4 Stars Award